Digital libraries
Collection and sharing of clinical data
e-MedCare allows users to create their custom digital libraries.

e-MedCare solution has a simple, easy-to-use user interface with many tools that allow the user to optimize their searches for both images and clinical data. The user interface is fully configurable and secure. You can customize your graphical environment with a single click.

This digital library solution is available in Software as a Service (SaaS) mode, fully hosted on site or via a dedicated cloud.

Powerful search engine
Patrons can easily browse and search content in your digital library with a powerful search engine.
Rich discovery experience for your patrons
Engage your patrons and increase traffic with a rich discovery user experience. e-MedCare provides a modern user interface with multiple ways to browse and access contents.
Responsive design
Content of your digital library can be seen and discovered from all media with a fully responsive design.
Manage your data
e-MedCare provides a fully featured online back office to manage your digital library easily using a simple web browser.
Share & promote your content
Increase the visibility of your digital library with built in OAI-PMH metadata repository and share features for social networks.
Choose your hosting solutions medical certified
e-MedCare digital library solution is available for local on premise hosting or in a dedicated Cloud.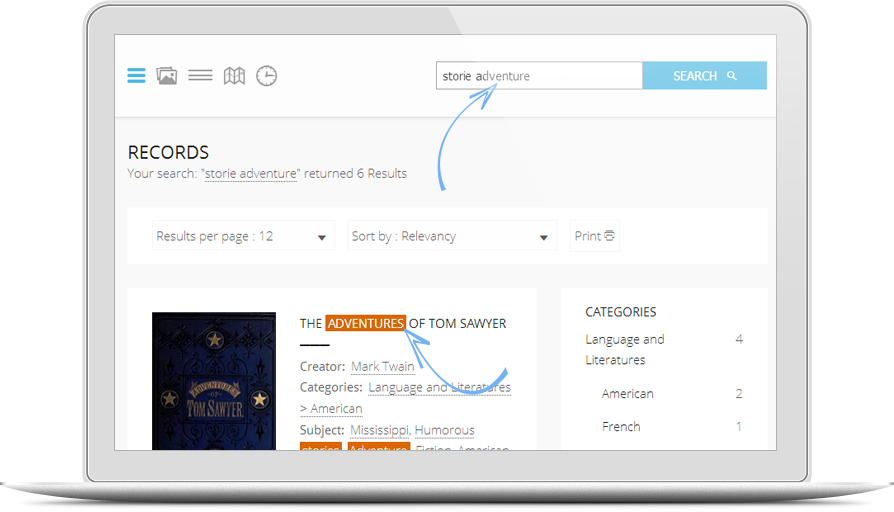 Powerful Search Engine
Patrons can easily browse and search content with a powerful search engine including:
Facetted search dynamically created with the Metadata
Language based fuzzy search (spelling mistakes, similar sounds and alternative suggestions)
Full text search with keyword highlighting in the entire collections
Manage your data
e-MedCare provides a fully featured online back office to manage your collections easily using a simple web browser:
Upload single or multiple contents as a batch
Create, update, enrich metadata and records
Organize your content in categories and collections
Upload and manage your medias : Images, PDF document, Audio, Video, 3D objects
Manage your website content : CMS, News, Scientific insights, ...
Define Public or Private access to document, collections, pages,...
Apply changes as batch with the bulk action feature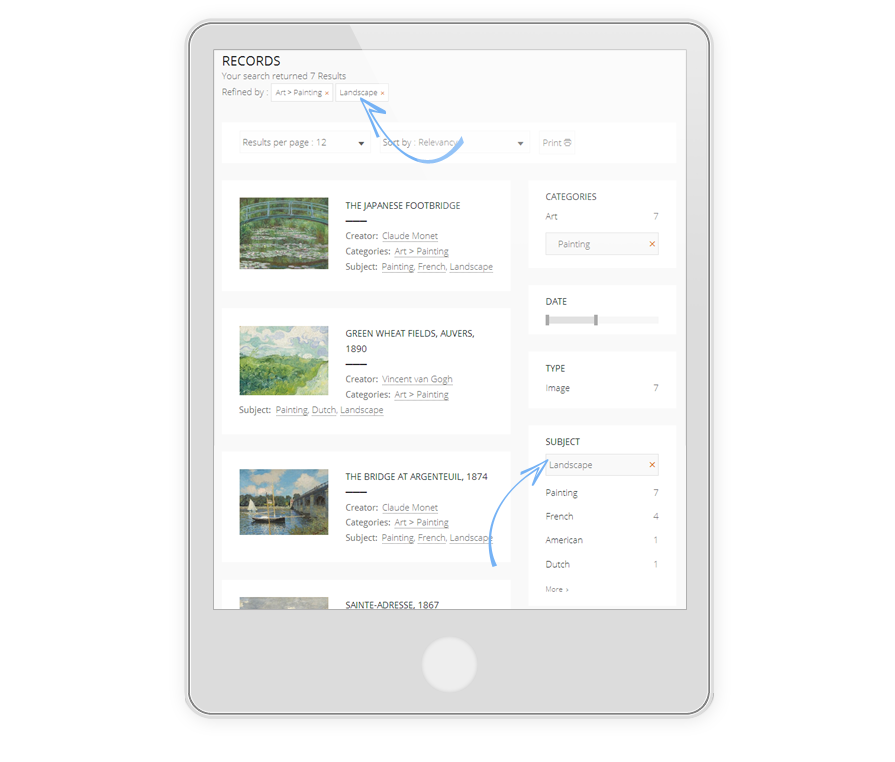 Faceted search
In the user interface is the faceted search menu. Faceted search is the ability for the user to narrow the search within the collection to certain fields.
The facets are automatically created by the search engine from the metadata provided with the objects. Within the back office, it is possible to configure which facets to display including:
Areas of research
Characteristics of the sample
Date of analysis / shooting
Location
etc...

Faceted search engines are being widely used now in all websites presenting large amounts of content in order to access as quickly as possible to the specific material the user is looking for.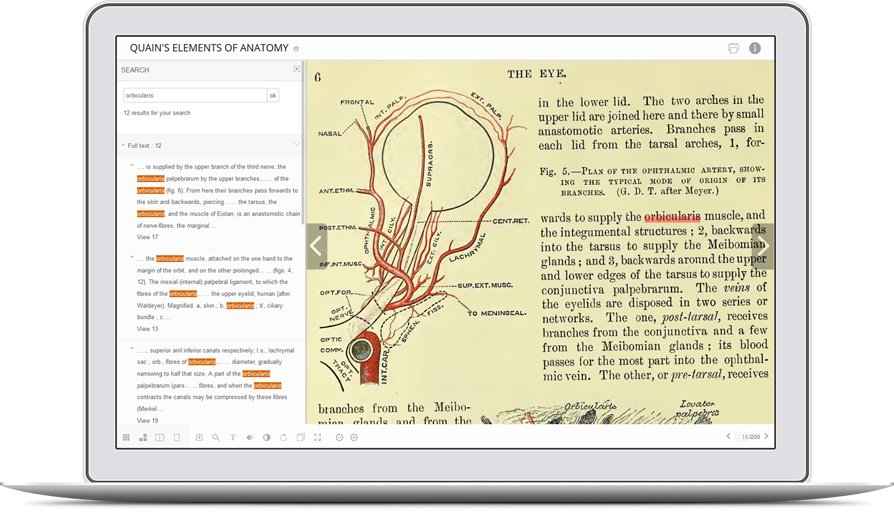 Full text search
Get complete full text search into your content with keyword highlighting. Full text search is available for global search into all of your content as well as inside a document. With our powerful search engine and language support full text search provides some fuzzy search capability to correct spelling mistakes, suggest similar sounds, etc...
Text search can be done on:
Metadatas
Full text
Bookmarks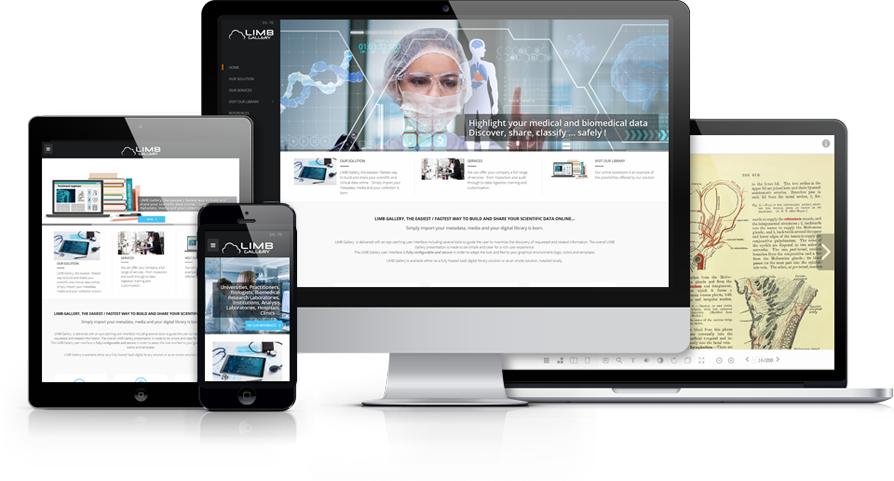 Responsive and customizable Design
Engage more visitors with the ability to discover content from any platform including tablets and mobile phones. e-MedCare is delivered with a fully responsive design. The built in content viewer includes a powerful image streaming engine to facilitate discovery on mobile platforms.

All content viewers are built on modern technologies using HTML5 javascripts. These technologies employ a widely used open standard that is available on all web browsers without any requirements for additional plugins.

Solution is delivered with 4 different design templates and full access to the template source code for customization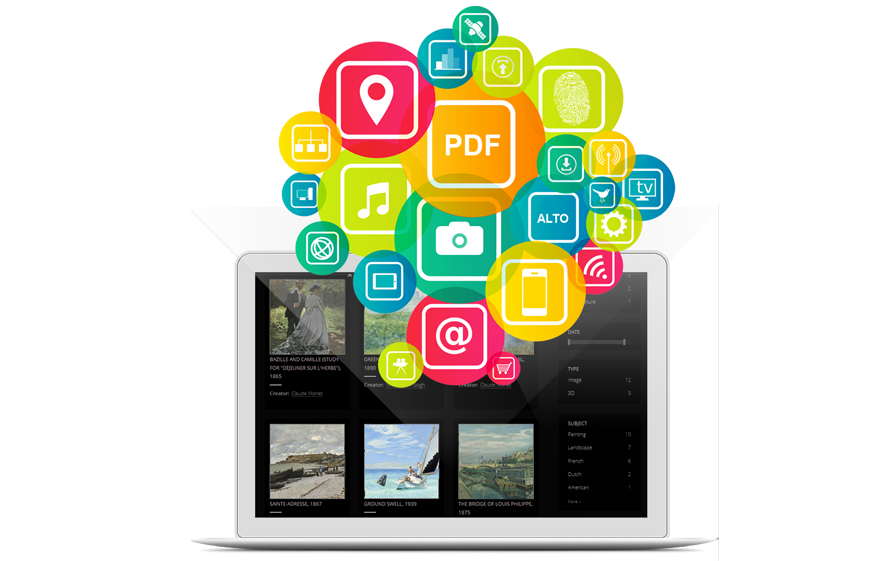 Metadata, images...and more...
e-MedCare is able to import all standard file format and much more :
Images : TIF, JPEG, PNG,...
PDF document
Full text ALTO
BookMarks
Audio files such as MP3, OGG, MPEG, M4A...
Video files such as MP4, OGG, WEBM,...
360° images
3D Objects
Connection to Video platform such as YouTube or Viméo
Connection to iiif server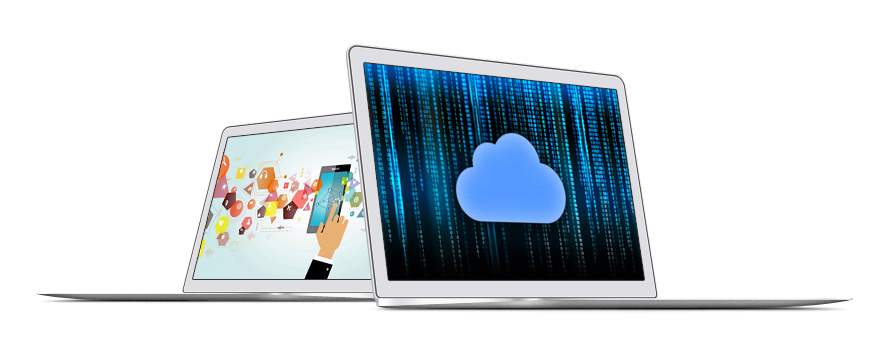 Share and promote data
Easily share metadata with partner libraries or content aggregators with the build in OAI-PMH. OAI is an open standard for facilitating metadata exchange accross libraries.
Use the Social Network widgets to promote your content : FaceBook, Twitter, Google+, ….
Connect your existing tools to our solution with the e-MedCare API : online catalog, internal tools,...
Create digital images repositories interoperable with others libraries thanks to the iiif protocol.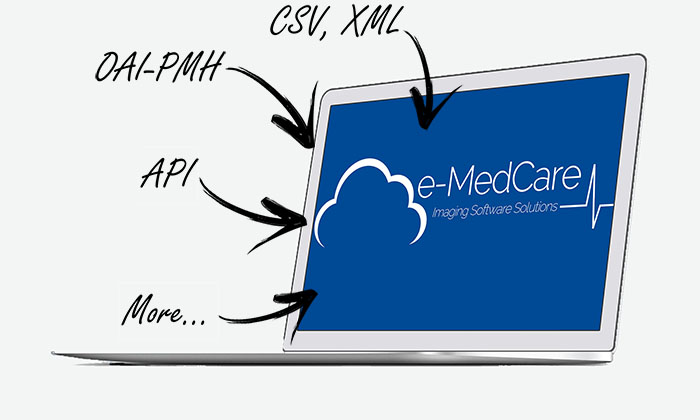 Import
Easily ingest metadatas through :
CSV, XML, …
Connection to online catalog
OAI-PMH connection with partner libraries
Share images from other libraries:
Automate ingestion through :
API build or connect your existing tool
Limb Processing automatic connection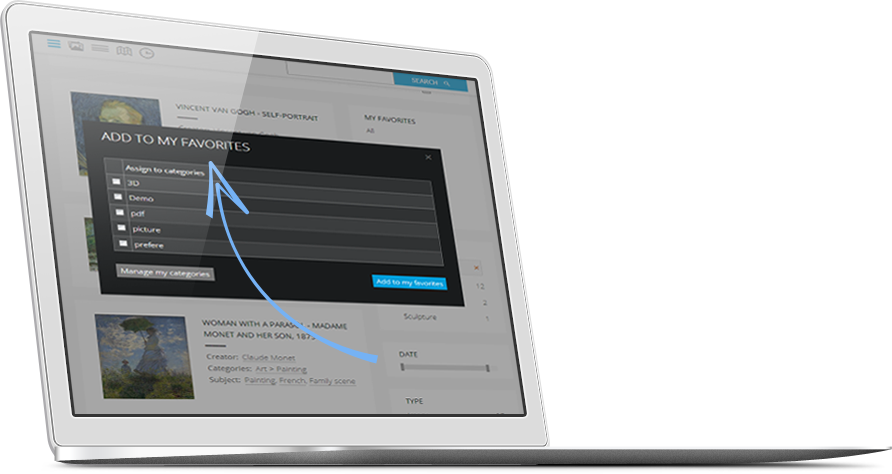 Users Features
From the e-MedCare front office, final user can easily create an account and benefits from the following features:
Manage its favorites into personal collections
Have access to a document historical
Create personal notes on documents
Have a private access to specific document or collection
Enhance document metadatas with collaboratives annotations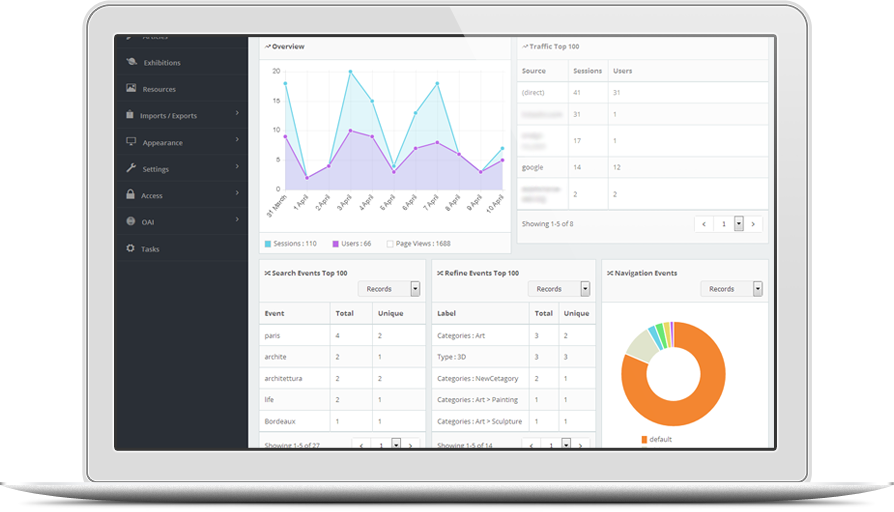 Easy Back Office Management
Create new records and upload content
New records can be easily created or updated from the back office by entering the descriptive metadata information and uploading the digital files. New records can be added manually or as a batch for large content upload
Create and manage collections
Within the CMS create collections and assign records individually or as a batch. Collections can be easily created and organized as a hierarchy (sub collection and sub categories) within the back office without any limit.
Get the real time analitics on the traffic and most seen content
Directly from your dashboard get a real time view on the traffic generated by your content and most popular documents, collections or authors.
Collection and Document, Users, Rights, Languages, Edit Pages, News, Scientific insights, Events, etc.
Contact us